Everyone has their hobby or way for their extracurricular activities. There are many extracurricular activities that people can do, and among those activities, fishing is also included. There are two types of fishing, including freshwater and saltwater fishing.
Saltwater fishing is an ideal activity when you are on a trip with your family or friends. There are plenty of great places that allow you to do saltwater fishing. Saltwater fishing can be done at the beach or on pier planks, which are places that you can find easily. Additionally, saltwater fishing can also be done while you are in the ocean as well.
Although saltwater fishing is a fun activity, and there are many locations for you to do it, you need to choose where you want to do saltwater fishing according to your preference as if you want deep-sea fishing, backwater fishing, or fishing at the bay. Besides choosing the location to fish, you also need to think about what fish you would like to catch as well. Thus, you need to know how many types of saltwater fishing are available for you to decide on later.
Otherwise, even though there are many types of amazing saltwater fishing, you don't have to worry about what type you need to choose. You need to understand each type, and it will help you decide later after understanding. In this article, we will describe the best types of saltwater fishing available so that we hope you can go through the details of saltwater fishing types which are listed down below.
Types of Saltwater Fishing
1. Saltwater Pier Fishing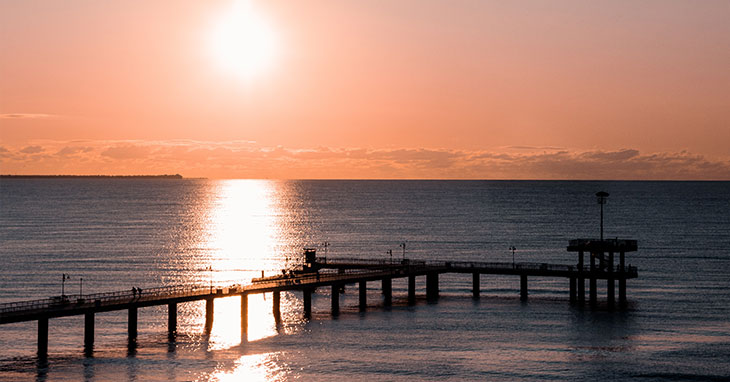 Pier fishing is suitable for new anglers, and for those who are more seasoned. It allows you to have more time to chit-chat with your friends or fishing peers nearby with pier fishing. When fishing at the pier, you don't have to worry about the weather as if there will be bad weather conditions or wind like when you do boat fishing. Moreover, unlike boat fishing, you don't need more fishing gear to catch the fish! However, research about tides is needed before actual pier fishing as it will help you understand the best time to have most fish in that area, which will help increase your chance to catch fish.
There are some essential tools that you can consider when going saltwater fishing. First, you can bring a cart along to help you carry other tools including the gear as the distance from the pier might be far. The second thing is a hoop net or pier gaff to help you pull the fish up easier. You should bring the fishing gear between 6 and 9 feet medium or heavy-action spinning fishing rod. Lastly, it is the bait, and tackle. Natural bait is more suitable for pier fishing such as bloodworms, squid, etc. However, talk to employees at the tackle shop or local anglers if you want to catch specific fish.
2. Saltwater Surf Fishing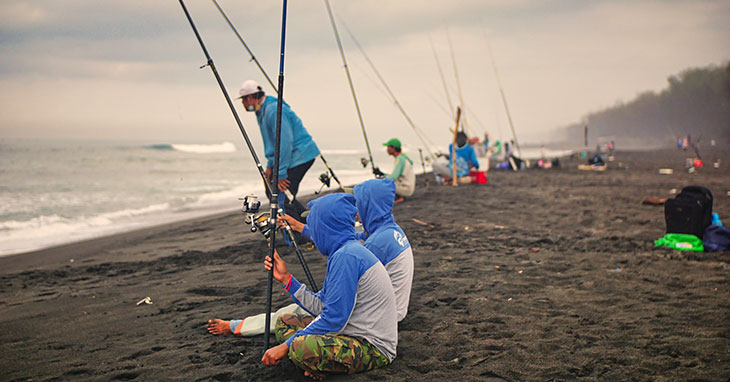 This type of saltwater fishing is an ideal activity to do when you are on a trip with family, and friends. When it comes to surf fishing, you can imagine yourself fishing by standing on the shoreline or wading into the surf. Fishing at the shoreline is ideal for beginners, and it will allow you to catch most fish. The ideal locations for surf fishing are troughs, jetties and breakwaters, points, inlets, baitfish patches, deep shore water, and so on.
The first thing to need to do before going surf fishing is to choose your fishing gear. However, gear should also be according to what you want to catch. Lighter gear and a shorter rod are for catching small fishes, whereas heavier hear and a longer rod is for big fishes. 7 to the 9-foot medium-heavy rod with 8 ounces of weight can be used for smaller species, while 12 to 15-foot heavy-duty rod with 20 to 25-pound of weight can be used for larger species for the best result.
Apart from the gear, you can also consider choosing the bait for your surf fishing. Live bait like shrimp, mullet, and squid is ideal for surf fishing that you can consider.
3. Flats and Backwater Fishing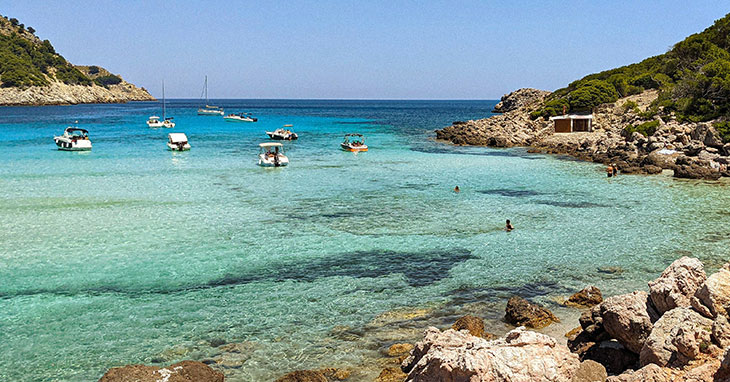 When it comes to flats and backwater fishing, it means you will be fishing from a flats boat, skiff, or kayak in saltwater areas. Backwater and flats fishing is similar to freshwater fishing if you have ever done freshwater fishing before. This type of saltwater fishing can be practice in some areas such as saltwater inlets, marsh edges, oyster bars or grass beds, channels, channel entrances, tidal flats, and potholes.
The most suitable gear for flats and backwater fishing is a 6 to 7 feet medium-action fishing rod with a spinning or bait caster reel, and 15 pounds weighted line to help you catch more fish. You can also add 2 to 3 feet of 20 to 30 pounds of the fluorocarbon leader line.
In addition to that, there are various lures that you can use for flats and backwater fishing. You can use gold metal spoons to soft plastic jigs. For the size of the hooks, it is various depends on the size of bait, however, it is between the 1/0 to 3/0 range.
4. Saltwater Bay Fishing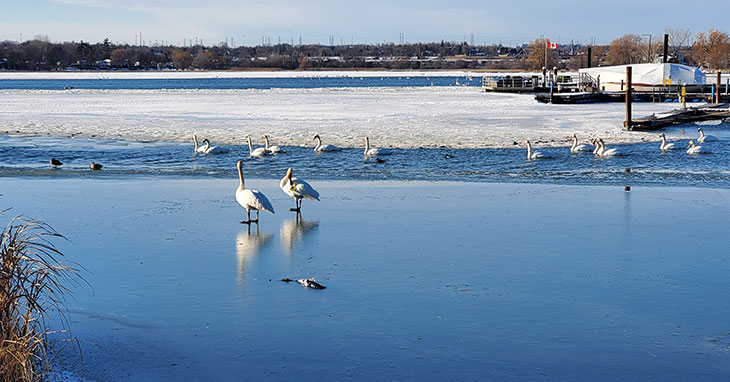 When you go for saltwater bay fishing, you will have to practice fishing in the large and enclosed locations of the saltwater to catch fish. The best areas for saltwater bay fishing including reefs, hills and humps, shallows and shoals, bays, bays and estuaries, and last but not least merging water. You can find various saltwater sport fish, baitfish, and crustaceans in these locations.
Most saltwater bay fishing is often done with 7 feet heavy-action rod with a spinning or bait caster reel and 20 pounds of monofilament line. In addition to that, a 50-pound test fluorocarbon leader is also used. The suitable lures for this type of saltwater fishing are the metal spoon, artificial or natural bait, plus the 6/0 or 7/0 circle hooks. This is practical for catching striped bass.
However, if you want to catch salmon, you can use a 9-foot downrigger trollingrod with a bait caster reel plus 25 pounds test monofilament line with 30 pounds of test fluorocarbon leader. You can use frozen anchovies or herring to lure the fish with 5/0 barbless hooks for the baits.
5. Deep-Sea Fishing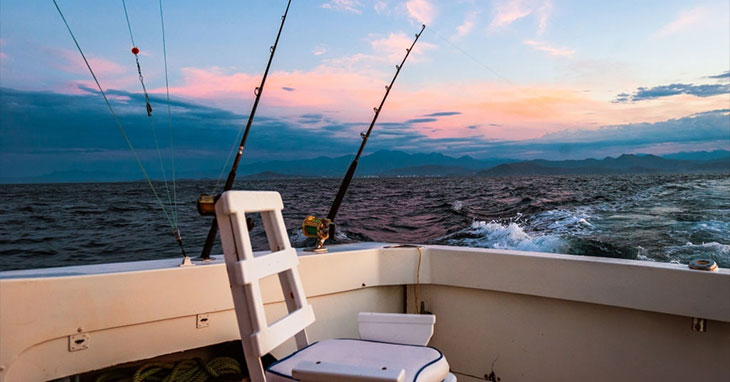 Deep-sea fishing, also known as offshore fishing is another type of saltwater fishing that the anglers do it far from the shore. This type of fishing is for those who seek challenges in fishing, however, it is not recommended for beginners. For the gear, generally, you can use 6 to 7 feet medium-action offshore fishing rod in combination with a heavy bait caster reel and 20-pound test monofilament line. You need to use 50 pounds of line in case you want to do deep-sea bottom fishing. Both natural and artificial baits are recommended for this type of fishing.
For safety purposes, you are recommended to keep the weather conditions up-to-date even before, and during the trip. You need to use, and evaluate the navigation charts before going into the sea, and don't forget to bring a GPS or a nautical map, and a VHF radio with you in case you need help. The areas to find fish are rocks, reefs and wrecks, towers and navigational aids, hills and seamounts, canyons and the continental shelf, and so on.
6. California Pier Fishing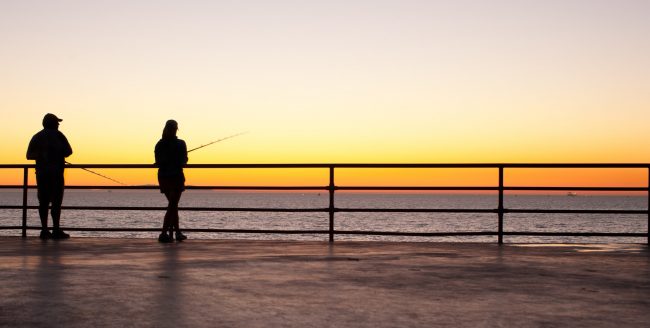 If you are on a trip with your family or friends in California, pier fishing is recommended to ensure that you will enjoy your best time. There are many public piers in California for you to fish since the coastline is over 800 miles which is a great length. When it comes to considering the best ocean for fishing in California, you need to remember that the best ocean is usually dominated by the tides which allow you to catch most fish, hence, let's not forget to check the local tide chart before your decision. Furthermore, please don't forget to check California fishing regulations.
California pier fishing is also similar to common saltwater fishing. You can bring 8 to 9 feet of medium-heavy fishing. If you prefer to catch larger species, you can use a 12 to 14 pounds test monofilament line. On the other hand, 20 to 30 pounds of fluorocarbon leader is recommended for those who have less experience with fishing rigs. You can use the fishing gear and live bait just like saltwater fishing.
However, the bait for California pier fishing also depends on the specific locations. In California corbina, sand crab bait is recommended, whereas squid bait is recommended for fishing in Pacific mackerel. Therefore, don't forget to ask the employees at a local bait shop for bait recommendations.
7. Florida Deep-Sea Fishing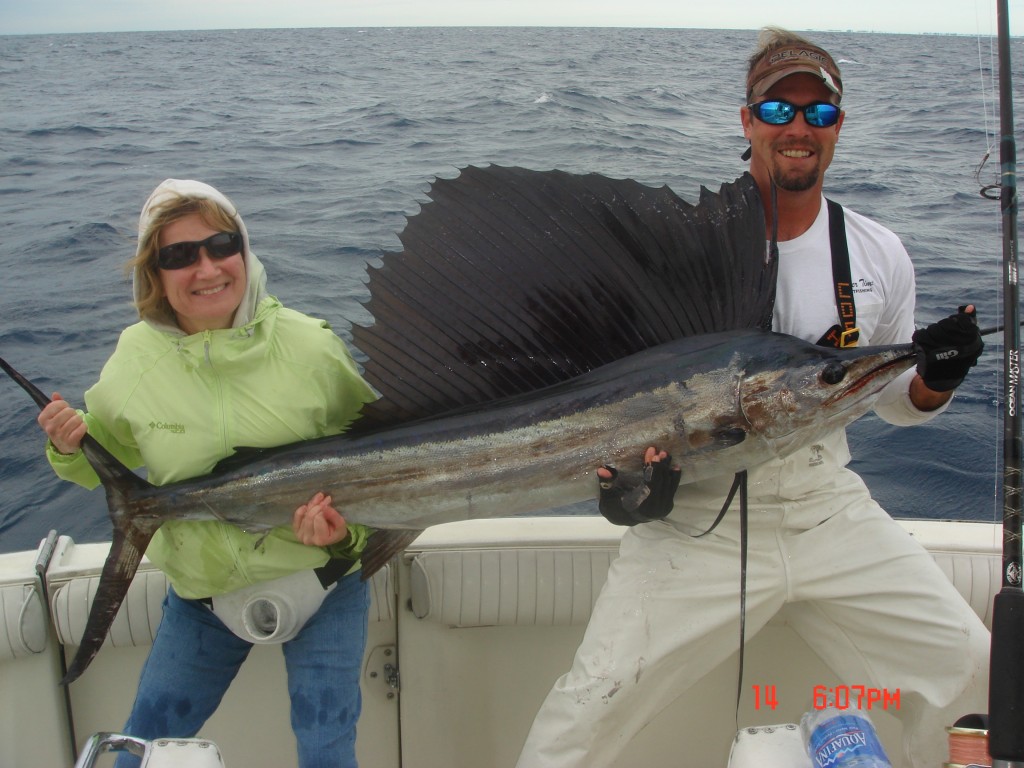 If you are looking for a place that can give you a deep-sea fishing experience, you can consider visiting Destin, Florida since it is known as one of the most popular places for fishing. There are many marinas and boat launches available for you in that place, however, you can also consider bringing your own boat.
While going deep fishing in Florida, you might be able to catch plenty of types of species such as red snapper, amberjack, sailfish, king mackerel, and more. However, please be aware of the fishing laws and regulations in Florida.
The most common deep-sea fishing methods in Florida are bottom fishing and trolling. Natural baits such as squid or jigs are recommended for bottom fishing, while natural baits like cigar minnows or skirted plus are more suitable for trolling. You can also question the local anglers for their recommendations.
Lastly, another important thing that you should not forget for Florida deepsea fishing is checking with the charter captain or fishing guide if he/she has a fishing license, otherwise, you have to purchase a fishing license before your trip.
CONCLUSION
After going through all the above-mentioned saltwater fishing types, we hope that you will find this article is useful for you and help you plan your upcoming fishing trip as we tried to provide you more insights as possible.
To sum up, as an angler, there are many different types of saltwater fishing for you to try, and along with that, you also need to consider your personal preference, and what fish you want to catch. Thus, we hope that you enjoy reading this article, and hopefully, you will enjoy your saltwater fishing time on your next trip.