Every activity requires one to wear the right gear to make the work comfortable and convenient. Well, the same case goes for those who are fishing. Wearing the right fishing clothes allows you to have an easy time when casting your reel and when pulling the fish as well.
You must wear suitable shoes that are designed to be used in watery areas to keep your feet safe, and the clothes should also be water-resistant to avoid your body getting all wet when pulling stubborn fish from the water. The following are the reviews of the best fishing waders and boots, feel free to check them out.
List of The Best Waterproof Fishing Waders & Boots
1. TideWe Bootfoot Chest Wader 2-Ply Nylon/PVC – Waterproof Fishing and Hunting Wanders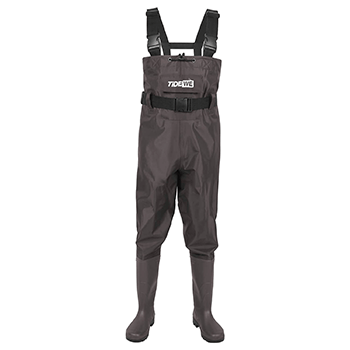 This is a versatile wader since it can be used for both fishing and hunting. The wader and the boots keep your body and feet safe and free from wetness since they consist of waterproof materials. It comes in two colors which are green and brown plus; they are unisex hence can be used by both men and women.
You don't have to worry about getting pulled into the waters when fishing since the wader has waterproof material which means that the gears do not soak in water thus keeping you stable and safe. The chest wader is designed with an adjustable suspender on the shoulders to fit different-sized people and is used for keeping you dry and warm as well.
2. Frogg Toggs Amphib Neoprene Bootfoot Camo Chest Wader – Cleated Outsole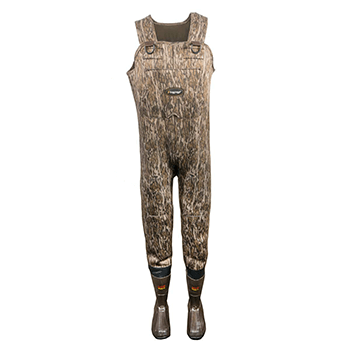 The wader features nylon and tough poly material that is water-resistant and durable as well. It has adjustable upper suspenders which allows you to have a comfortable fit for the gear. It is light in weight, and this will enable you to carry on with your fishing activity even when stepping on the waters.
The boots run-up to the knee-length such that even when fishing while stepping on the wastes, your feet cannot get wet. The shoes are crafted with 600-gram thin- ultra insulation which allows one to have breathability feet while fishing. The wader has reinforced knee padding for protection.
3. Hodgeman Caster Neoprene Cleated Bootfoot Chest Wader

The wader is joined with boots that are made of waterproof material and reaches the knee length to keep your legs protected from the waters. It is designed to reach the chest area and has adjustable straps to offer a comfortable fit for the user. The wader consists of flexible material that does not interfere with your movements and the knee area is double padded for comfort.
Other excellent features on the wader include the top pocket found in the chest area and it also has side pockets that are made of warm materials. The wader has a back rear R-ring for hooking the net, and the front part consists of D-rings for attaching your accessories.
4. Ouzong Cleated Fishing HUNTING 2-ply Nylon PVC Waterproof Boots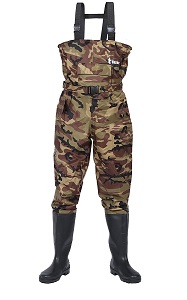 The wader can be used by those who like morning hour activities such as fishing and hunting. It is made of warm and outer waterproof material that guarantees to keep you dry and warm all the time. The boots are designed with cleat and PVC material that protects it from allowing water inside for safety purposes.
The suspenders are created in an adjustable manner and are also equipped with quick-release buckles. The wader is designed in a one-piece design that is easy to take off and wear too. It is light in weight and so, you don't need to worry about the water or the boots getting too heavy when fishing.
5. Hodge Mackenzie Nylon and PVC Cleated Bootfoot Chest Fishing Waders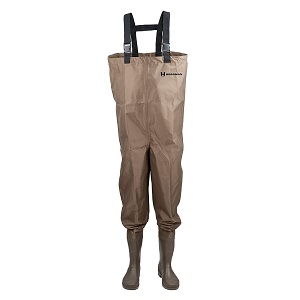 Aside from the lightweight materials used in making this fishing gear, it is also made of waterproof material that keeps you safe and dry all the time. The boots are designed with cleats hence ensuring stability while fishing.
The wader is intended to reach the chest level, and it also consists of adjustable velcro for an excellent fitting of the wader.
The wader has an internal pocket that ensures convenience, and it is made in a flexible form which enables the user to move freely.
6. Allen Black river BootHip Wader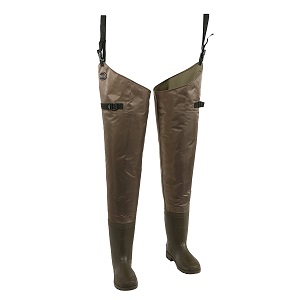 If you are looking for fishing gear to keep you dry when fishing in shallow waters, then Allen black is the right choice to make. It is designed to reach the hip areas such that even when you step on the water, you will not get wet. It is intended with durable material that is waterproof to prevent water from coming to contact with your body.
The soles are made with a cleat design to ensure the durability of the boots even after extended use. The upper areas of the wader have a belt loop and take-up strap that makes sure the boots are secure and fit well.
7. Cleated Fishing Hunting Wader for men Boots 2-Ply nylon PVC Waterproof BootFoot Chest Wader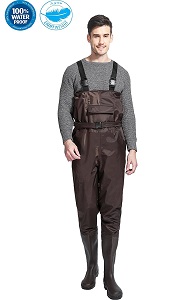 The wader is made of lightweight material that makes it easy for one to carry on with fishing. It is flexible thus allowing one to move freely and comfortably. The soles of the equipped boots are cleated to increase their durability and offer support as well. The suspenders are adjustable to fit different body sizes and for comfortable fit too.
The wader is designed to keep you dry and warm when fishing especially in cold times. They come in different sizes for one to choose from, and the wader can be used for fishing in different waters too.
8. Lone Cone Kids and Toddlers Adjustable Neoprene Chest Wader – Kids Edition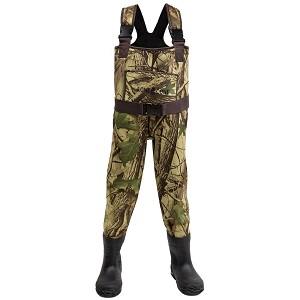 This s a beautiful and efficient wader for those who want to tag their kids along for fishing. The wader consists of waterproof material that keeps the kid dry and warm as well while in the waters. It has adjustable shoulder straps for providing a comfortable fit, and it can be used for other activities like hiking or if it involves the kid getting all messy.
It is light in weight hence allowing the child to move freely and the boots are made of a soft and comfortable inner material which makes it easy for them to be worm without any socks. The wader is made of beautiful colors and can be worn by both boys and girls.
9. Lone Cone Women's Deluxe Stockingfoot Chest Waders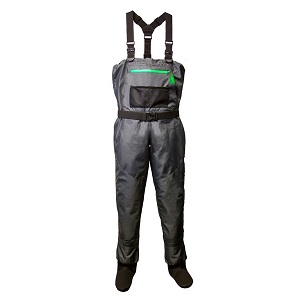 The wader features a beautifully flattering design which makes it ideal for women. It can be used in other activities aside from fishing since the material is flexible to allow free movements.
The material is waterproof to prevent the water from getting in the garment, but it also has breathable material. The wader has shoulder straps that provide ample support and good fastening as well.
10. Hodgeman Caster Neoprene felt Boot-Foot Chest Wader

The Hodgeman wader has neoprene shell material that is waterproof and also provides enough warmth to the user. The layers are designed with double padding to keep your knees protected. The boots have cleated rubber soles and reach the knee area to keep the legs safe from wetness.
The wader has a D- ring for hooking the net, and the top area has a fleece-lined hand warmer pocket.
Conclusion
The above reviews are the top 10 best fishing waders and boots to consider buying for fishing purposes. The fact that they are made of sturdy and waterproof materials ensures that you are safe and your body does not get wet when fishing or carrying out other outdoor activities. When buying the gears, check the sizes since they are made in different sizes to fit different people.