If you are a fishing enthusiast who coincidentally happens to move around every often, you may need to use the inflatable fishing boat. Unlike your ordinary fishing boat, this one collapses and stretches its size in such a way as to allow for seamless transportation to the desired locale of use with ease.
With so many players in the market for this kind of fishing gear, you may never find a great one for your use conveniently and easily. That is why a suitable guide of this kind is by all means called for. Here, we shall guide you through every step of the way till you find a suitable one for yourself.
10 BEST INFLATABLE FISHING BOATS COMPARED
We have seen it necessary to compare and contrast the strong features of the ten best inflatable fishing boats alongside their leading attributes in the table hereunder. We hope to let you know at a glance the kind of features and the potential benefits to derive from them.
| | | | | |
| --- | --- | --- | --- | --- |
| | Inflatable Boat | Hull Weight (pounds) | Load-bearing Capacity (pounds) | Carrying Capacity (persons) |
| 1. | Intex Seahawk Inflatable Boat Series | 47.8 | 790 | 3 |
| 2. | Intex Excursion Inflatable Boat Series | 58 | 1,300 | 5 |
| 3. | Intex Mariner Inflatable Boat Set Series | 91.1 | 880 | 3 |
| 4. | Intex Explorer K2 Kayak, 2-Person Inflatable Kayak Set | 21 | 300 | 2 |
| 5. | Sea Eagle PF7K PackFish Inflatable Boat Pro Fishing Package | 22 | 300 | 1 |
| 6. | Goplus Inflatable Fishing Float Tube | 12.5 | 350 | 1 |
| 7. | Classic Accessories Colorado XT Pontoon Boat | 77 | 400 | 1 |
| 8. | Wistar Fishing Inflatable Rafts Pontoon Float Tube Boat Set | 14 | 325 | 1 |
| 9. | AIRHEAD Angler Bay Inflatable Boat | 6.06 | 450 | 3 |
| 10. | Intex 5 Person Inflatable Fishing Boat with Trolling Motor | 57.6 | 1,000 | 5 |
ADVANTAGES OF INFLATABLE FISHING BOATS
By choosing to work with the inflatable fishing boats, you stand to accrue these and many more benefits:
Convenient Deployment to Remote Locations
The boat enables you to conveniently deploy it to the precise location of intended use. That is due to its ability to inflate and deflate in such a way as to let you determine the precise dimensions of your choice and want. With this comes the added freedom of engagement at all times.
Faster Impromptu Engagements
Generally, these boats take a shorter duration of time to inflate and inflate. In light of this, they cut down the time you would otherwise waste when attempting to make meaning of the same. You hence have the freedom and the privilege of being able to use the same even when your time is squeezed.
Simplified Storage and Transportation
Considering the ease with which these items inflate and deflate, they let you store and transport them with absolute ease and great precision. In fact, you do not have to stay close to the shores of the water body of your targeted interest. All you ought to have is a mechanism to take it wherever it is needed.
Limited Care, Repair, and Maintenance
Compared to the traditional boats, this one requires fairly limited care, repair, and maintenance spates. Most of the time, only tough, rugged, and durable materials are used to structure them. That spares you from the dangers of having to spend too much or suffer excess downtimes while handling them.
Improved Stability
Typical fishing comprises a flatter bottom that is subsequently more stable than the traditional boats. You are hence guaranteed some safety and overall stability as you ply one route to another one. This also translates to greatly reduced incidences of tripping and capsizing. All these add to some peace of mind on your part.
LIST OF THE BEST INFLATABLE FISHING BOATS FOR THE MONEY
10. Intex 5 Person Inflatable Fishing Boat with Motor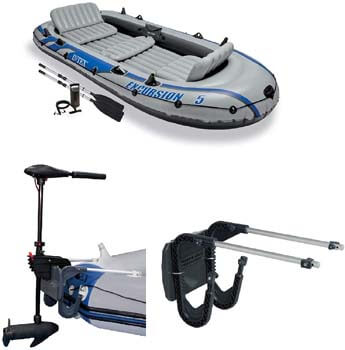 This specific boat is by and large suitable for many of common water-based activities. Examples of these are fishing, paddling, and expeditions. Hence, you may want to train your eyes on it to tackle these and many more activities we have around. It will certainly save you a bit of time and money.
Its material makeup is designed to resist all forms of punctures and hence maintain the dryness of your interiors. Those materials further have the added advantage of lasting longer and needing limited repairs and maintenance from you all the while of engagements.
Specifications:
Intex Excursion 5 Inflatable Boat Set
Intex 12V Transom Mount Boat Trolling Motor
Intex Motor Mount kit
Heavy-duty puncture-resistant PVC
Inflatable I-beam floor
PROs
Delivers both maximum comfort and overall stability
Light enough to take wherever you may need to go
Draws its power from an enduring motor
CONs
Too noisy to stay in for a longer duration
9. AIRHEAD Angler Bay Inflatable Boat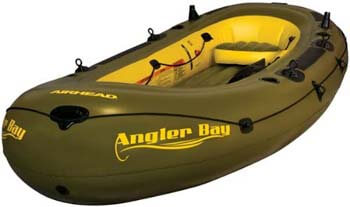 If planning to set up base in slow-moving streams or shallow waters, we recommend that you place your bet on this particular boat and nothing else. Its base is flatter and wider. As such, it does not in any way demand that you pitch it in the deeper waters as your traditional boat would ordinarily have you to.
On the whole, the item is lighter in weight and portable enough to take to the desired locale of use conveniently. Use its four drain plugs to empty the water contents and maintain the cabin dry and comfortable. Thanks to its swiveling capability, the item also steers smoothly in the waters.
Specifications:
An inflatable floor and a movable seat
Heavy-duty vinyl material makeup
Electronically welded seams
Possesses wrap-around grab lines
Contains multiple molded drink holders
PROs
Constructed of durable parts and material components
Bears a drink holder for your convenient access
Its seams are electronically welded for the toughest joints
CONs
Quite bulky to steer easily
8. Wistar Fishing Inflatable Rafts Pontoon Float Tube Boat Set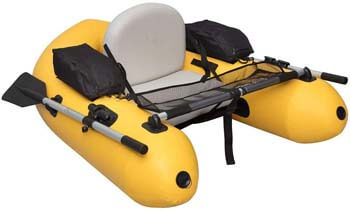 Rivers and lakes with rocky bottoms have the attendant impacts of abrading the exteriors of your boats and diminishing their life expectancies. You do not want this to happen to you at all, especially if you have no choice but to operate in such waters and areas.
As a way forward, you may want to train your eyes on a boat made of abrasion-resistant PVC materials. As its designation implies, this inflatable pontoon boat is a material that is pretty tough and resilient to the common agents of abrasion. This boat also goes beyond that to guarantee maximum stability when taking on rougher waters.
Specifications:
Abrasion-resistant PVC material
Hydrodynamic hull shape
High output air pump
Water inflatable rafts
380-pound weight handling capacity
PROs
Resists abrasions and other premature damages with absolute ease
Delivers high-quality rowing experiences
Manages superior tracking and steering when engaged for use
CONs
Accommodates only one rider per time
7. Classic Accessories Colorado XT Pontoon Boat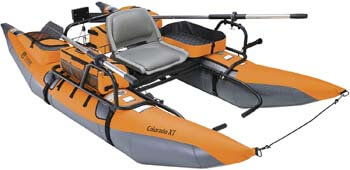 Just in case you may want to haul other gears in the course of fishing or engaging in water-based activities, you should tap into a boat that has storage spaces and segments as well. None even comes close to this one with regards to that feat.
It does have a huge storage capacity that comprises 20 pockets and some two insulated drink holders. These two are tucked into the rear storage platform and hence enable seamless access to the interior contents. For your ease of transportation, the item is also fixed with some transport wheels.
Specifications:
9-feet high-capacity pontoon boat
Meets the American Boat and Yacht Council standards
Removable stripping basket and gear bags
Powder-coated steel tube frame
Rugged 7-foot two-piece aluminum oars
PROs
Lets you fish with absolute confidence
Easier to move around as need be
Bears a whopping 400 pounds
CONs
Limited to fishing matters alone
6. Goplus Inflatable Fishing Float Tube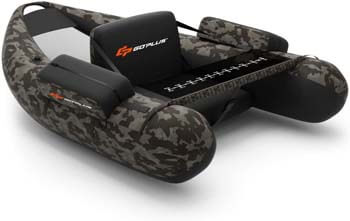 When fishing in the deeper waters, there is usually the likelihood of tripping and capsizing, especially when the waters are turbulent. If you must fish in such areas or at such times, the boat of your choice and liking has to possess great buoyancy. We ask that you set your eyes on this one.
Not only does it manage a great buoyancy, but it also does it bear a huge quantity of load. Also existing to make your life on the whole easier are the storage pockets, a fish ruler, a set of adjustable straps, and an exceedingly high load-bearing capacity of roughly 350 pounds.
Specifications:
Great buoyancy and high load-bearing
High-quality polyester and PVC materials
Storage pockets and fish ruler
2 adjustable shoulder straps
350-pound load-bearing capacity
PROs
Inflates and deflates rapidly
Transports to the final destination easily
Bears a huge volume of load
CONs
Demands extreme care and attention
5. Sea Eagle PF7K PackFish Inflatable Boat Pro Fishing Package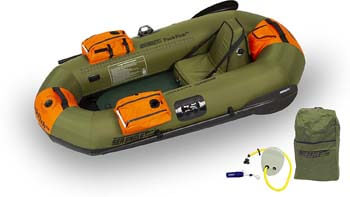 From time to time, the waves may usually blow too hard in the waters in such a way as to blow you completely off course. The same dangers also often arise when tackling those huge catches of fish. Both circumstances demand that you choose to work with a very stable boat that shakes not.
We ask you to try your luck on this one that has four tracking strips. They provide stability and the assistance you need to fight off those sways while at the same time reducing the possibility of being blown away by the strong winds. Some two-rod holders are built into the system to simplify navigation.
Specifications:
Two 36-inch fish rulers
Four tracking strips
Two built-in industrial strength rod holders
21-pound hull weight
Main and additional upper safety chamber
PROs
Comes about in excellent dimensions
Its floorboard is tough and impervious
Boasts of improved stability
CONs
Does not have the fishing rods
4. Intex Explorer K2 Kayak, 2-Person Inflatable Kayak Set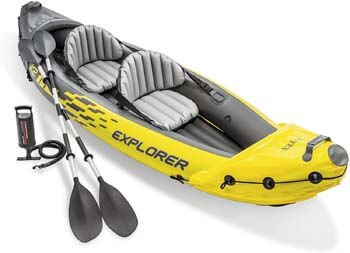 Boats come in various shapes and sizes, depending mainly on the unique tasks and purposes they are designed or intended. This one is designed for smaller bodies of water like mild rivers, streams, and narrower lakes for all practical purposes.
With its streamlined design, this item really takes on the rough waters head-on. The design also allows for smoother and easier padding along the way. Thanks to the bright yellow colors and the sporty graphics, you are sure to remain easily visible regardless of the time of the day you are in.
Specifications:
Bright yellow color and sporty graphics
Rugged vinyl construction
Two 86-inch aluminum oars
Intex high-output pump
Highly comfortable cockpit
PROs
Its cockpit is designed for maximum comfort
Remains stable despite all the turbulence that may be directed towards it
The bright yellow colors confer great visibility
CONs
Quite bulky and heavy to steer around
3. Intex Mariner Inflatable Boat Set Series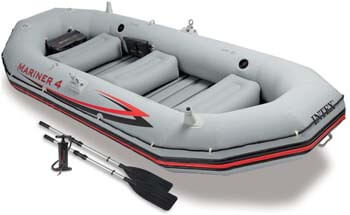 Out of all these leading boats, this happens to possess the highest weight-bearing capacity that currently standing at around 1,100 pounds. For this reason, you may wish to dedicate it to commercial usage and transportation needs. When fully inflated, it comes to about 129 inches by 57 inches by 19 inches.
Its material makeup is also superb. For a large part, it comprises plastic material construction that boasts of strong molecular structures. These strictures subsequently make the item stand stronger to the risks of the harsh impacts, abrasions, and of course, extreme sunlight. Engage its four Boston valves to regulate the inflow and outflow of the air.
Specifications:
Durable rock guard lines
All-around nylon grab line
Strong molecular structure
Enables quick fills and fast-deflations
Highly resistant to damages
PROs
Allows for improved handling and controls
Resists all forms of impacts and damages that may be leveled against it
Lets you regulate the inflow and outflow of the air
CONs
Only for the expert user or operator
2. Intex Excursion Inflatable Boat Series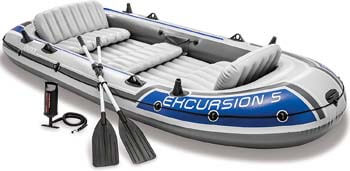 You can never take your own safety or well-being for granted, not when you have to take on the rough waters head-on. To be on the safe side of issues, the boat you pick and devote to the job has to be capable of conferring extra buoyancy. One sure way of managing this is to have extra air chambers.
This boat contains not one or two but a whopping three air chambers! These work interdependently to manage the extra buoyancy outcomes for you! A grab line exists all around the boat to allow for seamless support in the course of taking on the turbulent waters.
Specifications:
2 welded oar locks on each side
Facilitates quick-fill and fast-deflates
Enables motor mount fitting
54-inch deluxe aluminum oars
Measures 144.09 inches long by 66.14 inches wide
1. Intex Seahawk Inflatable Boat Series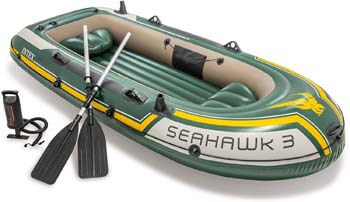 Crowning the list of the leading blow-up fishing boat is this one. It is by far the strongest and the most enduring of all the boats we have around. You hence have it for the taking if you have a fully established career in fishing or water-based activities.
That stems mainly from its heavy-duty, puncture-resistant PVC material that is greatly in use in making it. Other than the extreme longevity of use, the boat also manages to give off some exceptional comfort. It absorbs all the impacts and keeps you in a steady state of utmost comfort and support.
Specifications:
9 feet 8 inches by 4 feet 6 inches by 1 foot 5 inches inflated dimensions
790-pound weight handling capacity
Contains 3 air chambers
Motor mount fittings
Fitted with the two quick-fill, fast-deflate Boston valves
PROs
Imbues wholesome and exciting fishing experiences
Lasts a fairly long duration of time
Fits many spaces and areas for convenient engagements
CONs
Calls for extreme care and maintenance on your part
WHAT TO CONSIDER WHEN FINDING THE BEST INFLATABLE FISHING BOAT?
To get your hands on the best inflatable fishing boat, you have to take care of the following factors and considerations:
Load-bearing Capacity
This refers to the sum total weight that the boat may bear. You want a strong and agile boat to bear the heaviest weights you have in mind. To be sure of this, you have to check out the weight rating of the boat you have in mind before embarking on a purchase thereof.
Number of Occupants
How many people might you want to haul and carry around? Different boats have different carrying capacities. Just as is the case with the load-bearing capacity, you must also be sure that the boat you pick for the job can accommodate all the occupants you have in mind.
Specific Purpose
What exactly would you like to dedicate the boat to? Is it to fish, adventure, racing, or general relaxation? Different boats are designed for different purposes. You have to pick that which matches or mirrors your unique purposes as nearly as possible. That way, you will stave off any unnecessary inconveniences or strains.
Sheer Weight
The sheer weight of the boat also counts. Remember, this is an appliance you will have to carry around every now and then. You definitely want a lighter one that is easier to lift and convenient to transport to the desired location of use. For you to arrive at this, you will have to check out the weight ratings.
Nature of the Waters In what kinds of waters do you plan to devote the boats? Is it still and calm waters or rough and turbulent ones? You have to assess the kinds of waters in mind and mirror the same with the kinds of boats you have in mind. Rough water demands strong boats, as a general rule.
Conclusion
Your search for the most suitable inflatable fishing boat should not be that much of an issue now. All you have to do is skim the list we have belabored above to gain the inspiration you badly need. As you do so, pay some keen attention to the unique specialties of each boat.
Try as much as possible to mirror or match these unique specialties with the kinds of experiences or expectations you intend to derive from the same. It always pays to take the necessary step towards the acquisition of the same as soon as it is practically possible.
A great way of getting out into the water is by using a high-quality inflatable fishing boat. The advantage of a low price makes the inflatable boats a must-have. When they're deflated, they simply need small space, which is another great advantage that everyone loves. Get one of the boats from this list, and it will enable you to get out of the lake in no time.