There are various necessities that you require when going fishing and one of them is a pair of fishing shoes. Fishing shoes come in different designs and types to fit the fisherman's needs and the location of fishing as well. But some of the features to look out for include the materials to ensure the boots are made of waterproof materials.
Also, check with the length whether you are fishing in early mornings or in deep waters, consider boots designed in high length. Moreover, size is also another crucial thing to consider when selecting the boots to ensure comfortable fitting. Below is a list and review of the best shoes and boots for fishing and outdoor activities, feel free to check them out, and hope you find the one suits you the most.
List of The Best Fishing Shoes
1. Duck and Fish Buck Man Fishing, Hunting Shoes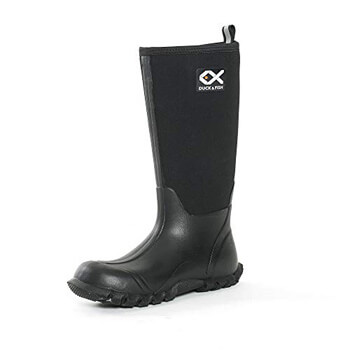 If you love outdoor activities, then these boots will suit you. They are made of high length to ensure your feet are well protected from coming into contact with wetness. The shoes feature rubber sole which makes movements easy and free when fishing around.
The other feature that makes these boots ideal for fishing is the waterproof material which allows one to step into the water without worrying about getting wet. Other features include the pull loop which makes it easy to slip the boots on and out. They are also light in weight for comfortable walking during the rainy seasons or in muddy areas.
2. Xtra Tuf Women's 15 Inch Legacy Rubber Boots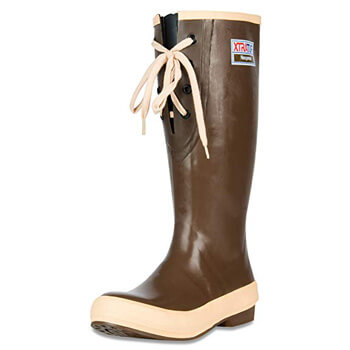 Some women enjoy outdoor activities such as fishing or hunting. Therefore to make your activities comfortable and fun, these boots are designed just for you. They are made 15 inches in length to ensure your legs are free from wetness. The shoes are crafted with a lace-up design to prevent them from slipping when fishing in muddy areas. The sole features rubber material which makes the movements comfortable.
It is made of a durable and waterproof material that guarantees the prolonged usage of these beautiful boots. The sole of the shoes is made with a moisture-wicking breathe o- prone sole which is essential for absorbing the shock. There is also an open-cell feature that ensures the inner sole dries quickly.
3. Hodgeman Neoprene Wade Shoes
These fishing boots are suitable for people who like to fish in shallow areas. They are made of neoprene and rubber sole to ensure the durability and safety of the user as well. The front part of the boots is made of a zipper to ensure firm securing especially during rainy days. The shoes are versatile and can be worn by both men and women.
Also, the classy ankle reach design makes it ideal for other occasions as well. Note that the shoe is one size up for men and one size down for women, so make sure to use the traditional shoe chart when selecting a pair.
4. Korkers Greenback Wading Boot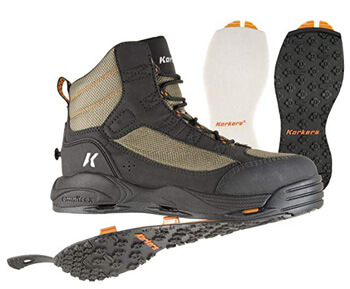 If you are looking for a versatile boot that you can use for different outdoor activities, then get a pair of Korkers. The shoes are made in a unique design which makes them ideal for earing for different occasions. Although the boots are not waterproof, they are crafted with mechanisms that reduce excess water from accumulating on the sole areas.
It is made of hydrophobic material which allows the boots to take lesser time when dry up. They are light in weight for natural movements and have a lace-up design to secure the shoes from slipping while walking.
5. XTRATUF Elite Series 12 Inch Neoprene Men's Fishing Shoes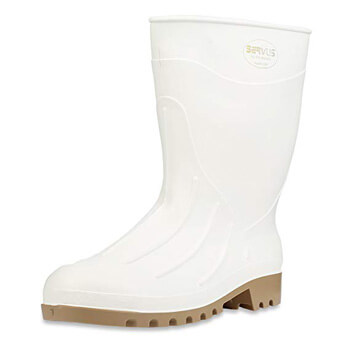 Aside from the attractive design that makes the shoes stand out, they are also insulated on the inside to keep the feet warm during the wet and cold seasons. They are crafted in 12-inch lengths to protect the legs from coming to contact with wetness. Other excellent features include the chemical resistant sole which is resistant to different organic and inorganic acids, oils, and other contaminants.
The shoes are purely waterproof; hence you can wear them in wet areas. The boost also features high abrasion nylon to ensure extra durability to the boots.
6. Servus 12 Inch PVC Polyblend Soft Toe Shrimp Boots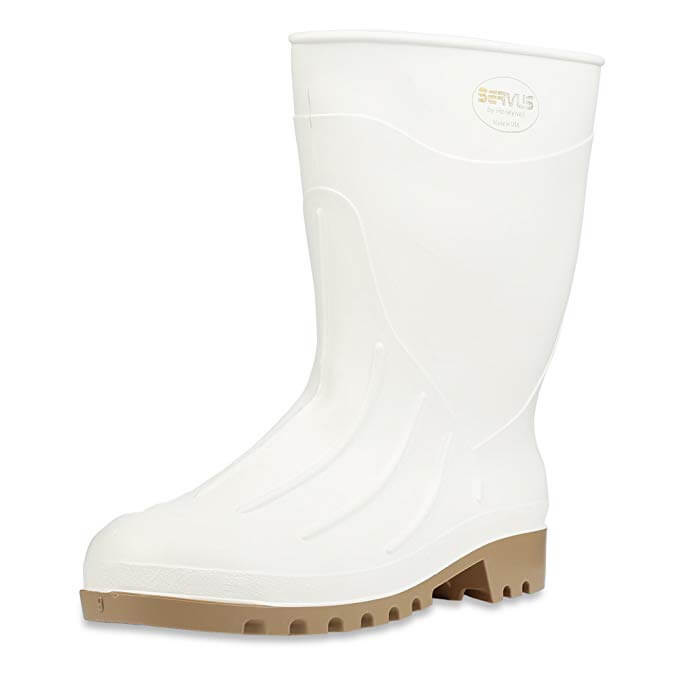 Buy on Amazon
These are unique pairs of boots that are made of PVC polyblend injection and are seamless. The shoes are 100 percent waterproof making them ideal for fishing and hunting during the winter seasons. They are super durable and resistant to chemical destructions; hence they cannot be damaged by both organic and inorganic chemicals. They are super light in weight making movements easy and comfortable as well.
The boots feature dee-angle cleated outer sole and heel that prevent them from slipping off. They have a top protection mechanism that allows one to wear shoes for a long time.
7. Gill Short Fishing Shoes for The Boat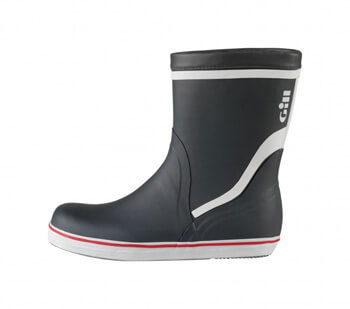 The boots are crafted with 100 percent natural rubber for smooth and comfortable movements. It also features non-slip razor-cut soles to ensure a comfortable grip. The inner part has a polyester lining which is quick to dry up. The inner bottom is also removable for efficient cleaning.
8. Grundens Men's Deck Boss Boots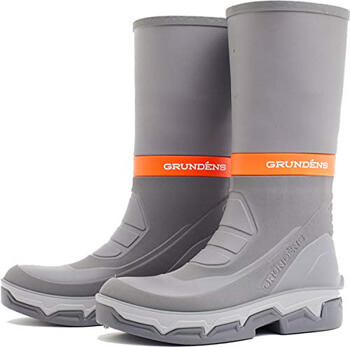 The boots are made of high quality and durable material to make your fishing and other outdoor activity smooth and fun. The sole of the shoes is made of rubber material which makes it easy to move around.
The upper parts of the boots are made in a foldable form while the two-part dry deck insole ensures the shoes take lesser time to dry up when it comes to contact with wetness. The boots are equipped with reinforcement to keep the toes safe.
9. Allen company Granite River Wading Boots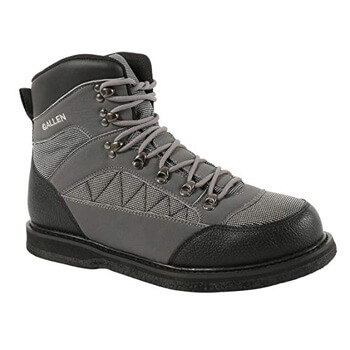 You can comfortably wear these boots even in wet areas since the sole is made of felt sole which prevents one from sliding. They feature a wide last essential for accommodating socking footwear.
The shoes are made in a lace-up design to secure the boots from slipping off, especially in wet and muddy places. It is light in weight for smooth movements and has a toe and heel box to keep the feet safe and protected.
10. Rugged Shark Fishing Boots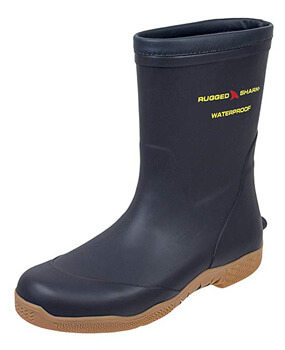 The boots are made with a 10.75-inch high cut to protect the legs from the cold and getting wet. They are cushioned on the soles to keep the feet safe and comfortable when fishing. The material of the boots is flexible which allows the user to wear the shoes on any surface.
The interior is equipped with a removable interior bed which adds comfort. The boots are made with slip-resistant mechanics which makes them comfortable to walk on any surface.
Conclusion
These are the top ten best and safest fishing boots you will find on the market. They are manufactured in different designs and materials to suit the users' fishing needs. So, if you like to fish early in the morning hours or during the cold seasons, consider boots with high length cuts.
Also, check on the materials to ensure your feet and legs are well protected from wetness.