People are now enjoying outdoor activities; however, weather can sometimes become an obstacle especially for those who are living in a cold continent. During winter most people might enjoy sitting in front of their heating stoves but it is impossible to sit inside the house all the time.
Consequently, many brands are now designing cold weather gloves to respond to the trend resulting in not only keeping you warm but also fashionable with cool functions. Unlike traditional gloves, some are now adding smart-touch technology so there is no need for you to take off your gloves in the middle of freezing weather just to answer your call.
---
List of The Best Extreme Cold Weather Gloves:
10. Carhartt Men's Cold Snap Insulated Work Glove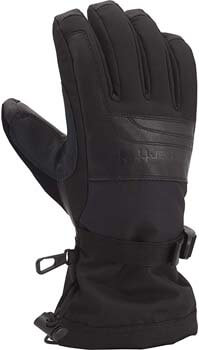 The gloves are a product which is made 100 percent from polyester. Though it comes from an expensive brand name ski gloves the price is affordable for its usage. It contains a storm defender waterproof breathable protection fitting the working conditions during winter. They are extremely durable for heavy work so you do not have to worry about tearing the gloves.
Similarly, it includes an insulated work glove featuring a logo across knuckles, nose wipe, and wrist strap with the barrel-lock adjuster. Extra moisture-wicking lining and they are washable for hand wash.
9. MCTi Waterproof Mens Ski Gloves Winter Warm 3M Thinsulate Snowboard Snowmobile Cold Weather Gloves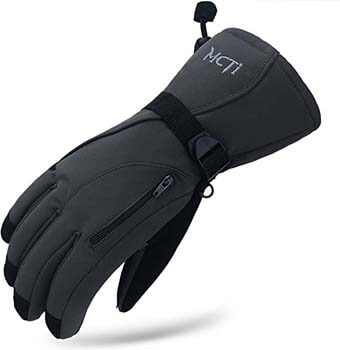 On the flip side, these are made from windproof polyester, 3M insulated Thinsulate and waterproof TPU. These materials plus 14 grams of warm cotton enables you to keep your hands warm. It comprises a three-layer softshell that helps averts the cold wind and snow. With the waterproof TPU membrane, you will not have to worry about getting your hands wet.
A nose wipe fabric is presented in the thumb finger with other beneficial functions such as zipper pockets which allows you to store keys, ID cards, or small amounts of cash. You can adjust or tighten the buckle wrist in the case to secure your hands from cold air.
8. Carhartt Men's W.B. Waterproof Breathable Insulated Glove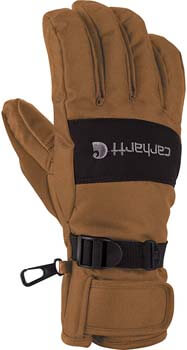 It is worth noting that the gloves are a combination of 75 percent polyester and 25 percent leather. On another note, it is claimed to be excellent for its durability due to the all-purpose polytex shell with leather trim. They are thick and also have storm defender waterproof breathable protection which is very suitable for outdoor activities.
The reinforced digital grip palm surrounding the finger and thumb areas will permit you to use your phone while wearing. Remarkably, with a newly fast-dry technology lining, it will wick away your sweat. Gauntlet cuff with barrel lock cord pull is also included based on your personal adjustment.
7. SKYDEER 3M Scotchgard Waterproof & Windproof Genuine Deerskin Suede Leather Ski Gloves
The pairs are made of the premium genuine deerskin leather suede making them a lot more comfortable than other typical gloves. At the same time, the lightweight 3M Thinsulate insulation will keep your hands warm and dry. The gloves consist of multiple layers for thermal preservation such as 3M Scotchgard waterproof and breathable waterproof bladders.
Apart from these, the design of utility zip pockets will allow you to have additional storage for small items such as keys and also serve as air-activated warmers. There are adjustable pull straps and a knitted inner cuff that is useful for fitting different hand sizes.
6. OZERO Winter Gloves Water Resistant Thermal Glove with Deerskin Suede Leather and Insulated Polar Fleece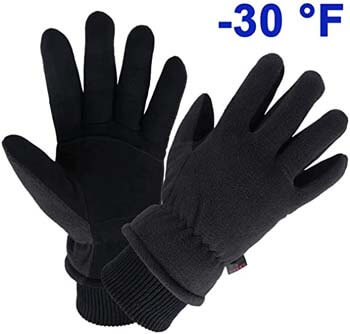 These products are completed of a high-quality deerskin suede leather and thermal polar fleece. Outstandingly, it offers a heatlok which is a high-tech air system of hollow fibers and microfibers to generate heat. Further, the TPU membrane is placed between fluffy fleece and heatlok insulated cotton in the back of the hand which helps keep away heavy snow or snowmelt.
Notwithstanding, the flexible shirred wrist will help maintain the gloves to stay closed around your skins. The 2.5 inches knit cuff is made to warm your hands from snow and cold wind as well as the thick cotton that is built-in around all fingers.
5. Vgo 2Pairs -4℉ or above 3M Thinsulate C100 Lined High Dexterity Touchscreen Synthetic Leather Winter Warm Work Gloves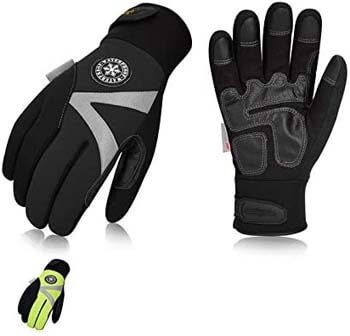 These gloves are made from a synthetic leather palm which confirms for long-lasting durability. They are a great fit and easy to wear. The fine cutting is made to eliminate unnecessary materials on the palms so it will facilitate the bending movement. Likewise, the lining is covered with TPU waterproof membrane to block the cold. Whereas the 3M Thinsulate insulation C100 will warm your hands from inside.
Nevertheless, it is attached with a tough PVC patch on pam areas for better protection and resistance. The reflective strips on the back for high visibility will come in good use especially at night. Touchscreen functions are integrated on both thumb and index fingertips.
4. DEX FIT Warm Fleece Work Gloves NR450, Comfort Spandex Stretch Fit, Power Grip, Durable Water Based Nitrile Rubber Coating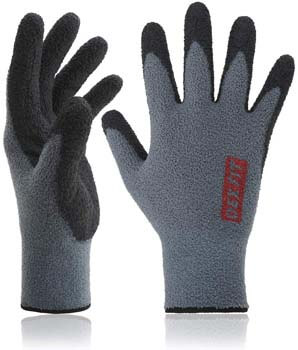 They consist of 100 percent polyester fleece that will wrap tightly around your hands to keep them warm. Moreover, the spandex is soft and flexible which snug fits into all fingers and palms. It also offers strong slip resistance and this will keep you at ease while handling slippery objects such as bicycles, tools, and shovels.
They are also fashionable and tight-knit wrist cuffs appropriate for any outdoor occasions like winter gardening, driving, skiing, running, etc. Besides, the different sizes make these accessible for men, women, and children not to mention the various choices of color. They are machine washable for clean and recycled use.
3. MCTi Ski Gloves, Winter Waterproof Snowboard Snow 3M Thinsulate Warm Touchscreen Cold Weather Women Gloves Wrist Leashes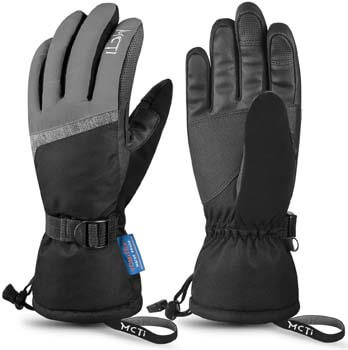 The gloves come in with nose wipe thumb fabric with good quality wrist buckles. In addition, the 3M thermal Thinsulate insulations and 120 grams thicken cotton adds warmest to your hands. The waterproof TPU works on wicking away moisture to keep your hands dry. Most importantly, they reinforced the premium anti-slip PU leather located between the thumb and index finger to protect your thumb from joint pain while gripping.
Additionally, shocks are covered in the middle part of the thumb and index fingers of the gloves in this case you can pick up or use your phone. It also comes with gloves holder wristbands to avoid losing your gloves when taking off.
2. Isotoner Women's Spandex Cold Weather Stretch Gloves with Warm Fleece Lining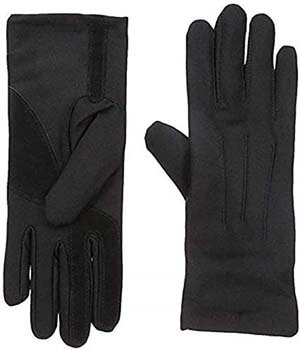 These stylish gloves are designed with a sleek and chic detailing which are suitable for women. Due to its classic contoured spandex stretch gives out flexibility for movement. The signature stretch fabric will keep your hands dry from snow and rain. Meanwhile, the soft stretch fleece lining will offer you warmest during winter.
The smart-touch technology allows additional functions like pinpoint accuracy, non-slip, and touchscreen-enabled palm patches. Furthermore, the thin design will make the inside soft and cozy but also keep you warm.
1. OZERO -30 ℉ Waterproof Winter Gloves for Men and Women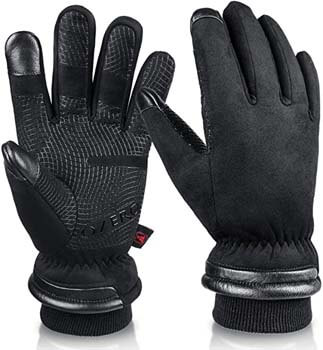 Buy on Amazon
These windproof and waterproof gloves are made from artificial suede leather and insulated polyester-TR cotton lining. The multilayer cold-proof material like an insulated sponge with a thickness of 2mm will prevent your hands from freezing. While a fine-lined soft and thermal TR cotton will make you feel more comfortable.
On the other hand, the breathable waterproof membrane will keep your hands dry even if you have to dip gloves into water. The palms area is attached with anti-skid silica gel offering you a better grip; therefore, it is best for outdoor activities. No need to take off your gloves when you need to use your phone because the goatskin fingertips are applicable for touch screens.
CONCLUSION
After going through this product review, have you found the one? These best cold weather gloves are the products with good quality while ensuring the warmness for your hands.
It is a bit distracting and annoying if you are to take off your gloves just to use your mobile device that is why they are now making these gloves for the touchable home screen.
Some of which even allow you to adjust the size of what is more is keeping your minor items with you inside your gloves. With these gloves, you can enjoy your outdoor activities or hanging out during winter because the cold will never bother you.