Family camping sounds awesome for the family to enjoy quality time outdoors in nature together. The best family tent designs for this purpose to serve as the shelter to recreate the comfortable home for the family during the camping trip.
Choosing the right family camping tent is certainly critical in determining the quality of your camping trip with your family or group. Then, how can you choose the best family tent for your trip? Fear not, here are the 10 best family tents we have sourced and lined up for your convenience. There should be at least one that is just right for you.
---
List of The Best Large Camping Tents for Friends and Family:
10. Wenzel 8 Person Klondike Tent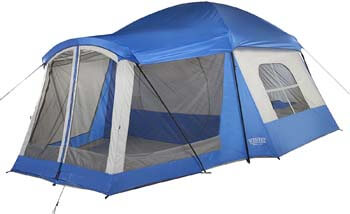 This family tent can house for 8 people with enough room for 2 Queen airbeds, and 6.5 feet of headroom. Featuring Weather Armor-fabrics to protect you from rain and wind with the full mesh roof and two mesh windows keeping bugs out, this tent ensures your whole family comfortable stay and the home-like experience.
Additionally, all threads, zippers, and webbing are treated with double-stitched and lap-felled seams to keep water or rain out. Worry of being too hot inside? A vent at the back of the tent and mesh openings at the top provide hi-low air circulation to keep your tent cool. The attached screen room can also be used as a sun shelter, a picnic room, a gear room, or a room just to relax in based on your own customized need.
9. Coleman 8-Person Tent | Instant Family Tent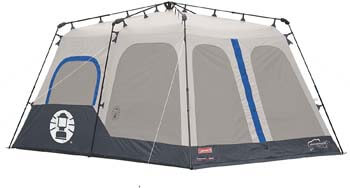 If you are looking for a family tent with an easy and quick setup process and a big one shared spacious room, this tent can be a good deal for you. This tent is designed to set up in about a minute in three easy steps. Simply unfold the tent, extend the poles, and secure them. The tent also easily fits into the included carry bag, which also expands with a rip-strip for extra storage space. This tent provides the spacious 8 person room with enough space for 2 queen-size airbeds.
Also, this tent comes with large screened windows and doors to let you enjoy your view of the outdoors while keeping bugs out. Together with the WeatherTec system that features thick waterproof walls and patented welded floors with inverted seams to help keep water out, this tent allows you to stay dry, stay bug-free, and stay comfortable outdoors.
8. Core 10 Person Straight Wall Cabin Tent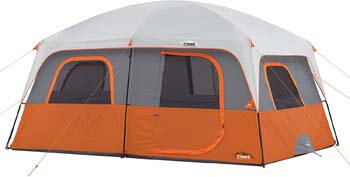 Planning a camping trip of up to ten campers? Or just wanting extra-space of your own? If so, this Core 10 Person Straight Wall Cabin Tent should be on the top of your consideration list. Having enough space to fit two queen airbeds or up to 10 campers in sleeping bags and a spacious interior of 86 inches allowing people to move freely inside, this tent also includes the room divider that creates a two-room tent with the feature of front and back door access.
Also, its water-resistant exterior including the fabrics and sealed method ensures that rain or water will not sneak into your tent. The tent also uses the advanced adjustable venting system that will keep your space inside the tent cool. Searching for a reliable and spacious tent? This should be one of your picks.
7. Mobihome 6 Person Tent Family Camping Quick Setup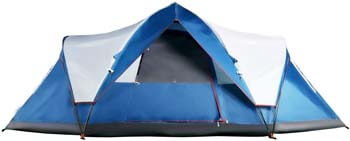 This Mobihome 6 Person Tent is designed with a special hub system that allows a single person set up in minutes. Breathable mesh roofs together with three windows and door provide the perfect ventilation and stargazing experience allowing you to enjoy your night view in a comfortable space inside the tent. Durable water-resistant fabric, well-built frame, fully taped rainfly, reinforced taped seams, and anchor points feature also provide outdoor enthusiasts an excellent camping experience.
In short, if you are looking for a family tent able to be set up easily by a single person for up to six people with breathable roof and water-resistant material that ensures your amazing stay. This less than 15 lbs lightweight tent should be one of your right choices.
6. KAZOO Family Camping Tent Large Waterproof Pop Up Tents 4/6/8 Person Room Cabin Tent Instant Setup with Sun Shade Automatic Aluminum Pole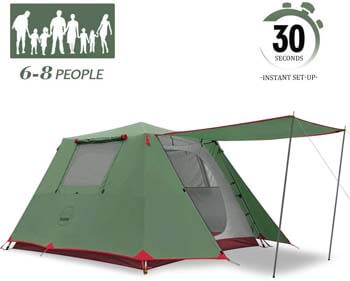 The setup of the family tent had never been easier than this tent. This tent is structured with the automatic frame of 19mn premium aluminum poles which were designed to be set up within seconds and to make both a sturdy and lightweight frame.
The cabin-shaped design of this tent provides the incomparable volume with two size options for 4-people and for 6-8 people. This tent also used double layers of the durable 210T rip-stop polyester waterproof material for the floor and rainfly with the full coverage rainfly designed to ensure the perfect weatherproofing. The full mesh walls and ceiling design of the tent also provide excellent ventilation.
5. Tahoe Gear Ozark 3-Season 16 Person Large Family Cabin Tent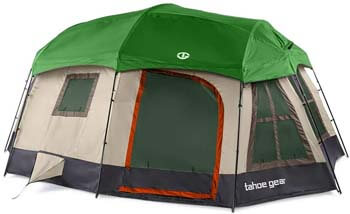 If the size is your first and foremost consideration, you should check out this massive Tahoe Gear Ozark tent. This tent provides a 7-foot center height and is the best tent for a larger group or family camping trips with enough room for up to 16 people. It is also relatively simple to set up and is featured with water-resistant 1200mm polyester fly with taped fly seams and polyethylene floor to keep water out. The open mesh design also helps to deliver much-needed airflow day and night to ensure a cozy stay in the tent.
The fly canopy extended out over the door for extra coverage and guy ropes on each side of the tent also serves the purpose of extra-securing in windy weather. Whether for the purpose of the larger group camping trip or just for having extra-large space for your family, this tent will elevate your level of comfort while camping with these extra spaces.
4. Coleman Cabin Tent with Instant Setup | Cabin Tent for Camping Sets Up in 60 Seconds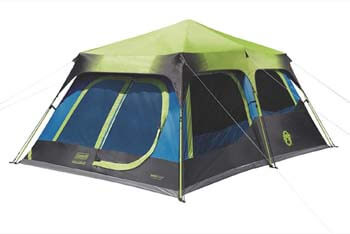 Are you looking for the sun-block tent but visible at night? If so, this one should be your right pick. Using the darkroom technology, this tent can block 90% of the sunlight and reduce heat inside the tent so campers can also sleep in past sunrise without much disturbance. Additionally, the visibility at night is another uniqueness of this tent. At night, the reflective guy lines are visible and easily spot in the dark.
This tent is also designed using the WeatherTec system that features the welded corners and inverted seams keeping water from getting in and including rainfly offering extra weather protection from the rain and improves airflow without the need for extra assembly. For the setting up, the pre-attached poles allow for quicker, easier, and as simple as unfolding, extending, and securing.
3. CORE 9 Person Instant Cabin Tent – 14′ x 9′
If you are indecisive between the mesh ceiling panels that allow you to enjoy the sky views and the rainfly that can give you the extra weather protection, this removable rainfly feature of this tent gets you both desires covered. This tent has the included rainfly with the extra-wide, thick tape heat sealed to fabric that ensures wind and rain don't stand a chance. When not needed, this rainfly can be removed.
Featuring a room divider and wall storage pockets, this tent has the center height of 78 inches and enough space for 9 adult campers in the sleeping bags. The CORE H20 Block Technology and adjustable ground vent ensure your comfortable stay by keeping water out and keeping the tent cool. To make the setup easier, the telescoping poles also come pre-attached to the structure so your tent pops up in just a few short steps.
2. Coleman WeatherMaster 6-Person Tent with Screen Room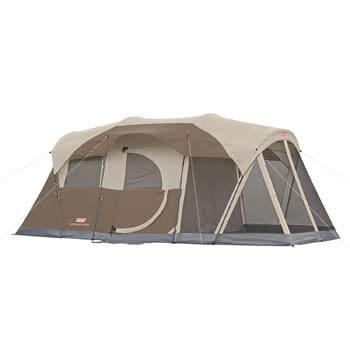 Looking for an easier alternative to go in and out of the tent? The hinged door design of this tent gets you covered. Differing from the flimsy tent doors, this tent featured the hinged door offering easy in and out access especially while carrying a baby. With a spacious room for 6-person that can be divided into two rooms, this tent also comes with an additional floor-less screened room that provides extra ventilation on warm days and serves as a great place for meals and gathering or protected storage space.
Additionally, Coleman's WeatherTec System of this tent features the leak-free seams, weather-resistant fabric, protected weather resistance seams, waterproof floors, zipper protection, and wind strong frame; these aim to maximize your convenient stay. The tent also comes with the E-port allowing the extension cord run through conveniently to bring electrical power into your tent when needed.
1. HIKERGARDEN CAMPROS Tent-8-Person-Camping-Tents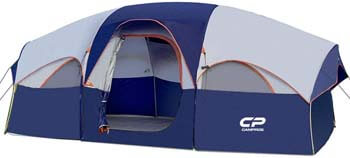 Planning a movie night for your camping trip? This CAMPROS tent comes with a separate curtain to divide the rooms that can also serve as the perfect surface best for movie projection at night time with the rainfly on.
This roomy tent for up to 8 or 9 people which can fit in three queen-size air mattresses is designed using the durable and high-quality 185T polyester material which guarantees the water-resistance and the mesh door and windows which allow the breeze to come in while keeping the bugs out. With a smooth 2-way zipper and well-made poles, the setup is relatively simple with no particular skills needed.
CONCLUSION
In short, finding a suitable family tent based on your own needs can determine your camping trip experience to be awesome or a nightmare. Adequate space for the campers, a ventilation system that ensures comfortable temperature, and water-proof features to prevent water sneaking in and other special needs are among the points to be considered.
Therefore, for your convenience, we have listed the ten best family tents suitable for the various needs above. After reading this, have to decide which one will be in your shopping cart for your upcoming trip? We hope you found the one that is just right for you.