Are you a paddler? If yes, then you definitely need paddling pants. Those paddling pants will keep you dry and warm while providing you with enough comfort. They will go a long way to protect you from gravel and sand. There are a lot of paddling pants available in the market with different features, and the choices you have, the more difficult it is for you to choose.
You won't be surprised that reviewers will give you a positive verdict on almost every pant in the pant. The following is a review of the top 10 best paddling pants for men, feel free to check them out.
List of The Best Paddling Pants for Men
10. NRS Rio Paddling Pants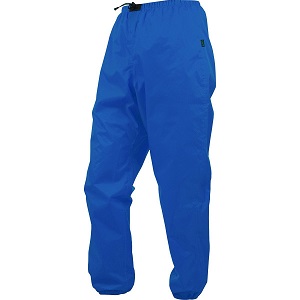 NRS Rio Pants are waterproof and windproof paddling pants that will help keep you dry and warm on any paddling adventure. They are made of a durable urethane-coated 210 denier nylon oxford is cut big to allow layering for extra warmth. You may also love their elastic ankle enclosures. Though it's waterproof, some users claim it allows water in, even it were to allow water in, it dries very easily.
Further, some complain that its small size is just extremely large. Of course, this can be a serious concern for the small-bodied men. Nonetheless, the pants are of good quality and are reasonably priced. It includes a shock-cord waist fastens with a barrel-lock closure. Definitely, they have excellent value for all paddlers.
9. Kokatat Men's Polartec Power Dry Outercore Pant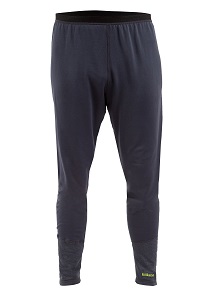 Heavyweight insulation when you need it, OuterCore insulation from Kokatat is made with recycled Polartec PowerDry. With 4-way stretch fabric uses heavyweight Polartec Power Dry in the main body and lighter weight Polartec grid fleece in the ankles. It is 90% polyester and 10% spandex on the main body and 92% polyester and 8% spandex on the contrast grid.
The jersey face enables smooth layering under outer shells, while the plush velour interior is comfortable against your skin. Wicks moisture and allows it to dry quickly. The articulated design with flat seams supports the needs. Kokatat OuterCore paddling pants offer the finest in warmth and moisture movement for those inevitable chilly.
8. Immersion Research Arch Rival Pant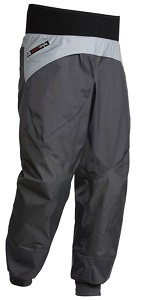 The Immersion Research Arch Rival Pant are performance-oriented paddling pants that provide serious protection from the elements when paddling or kayaking. It includes a waterproof/breathable WhiteOut technology that makes these great for when the temps make it too cool for shorts but a wetsuit may be too heavy. The pant is made of an extra durable 400 denier nylon that makes it very durable. Its articulated design provides ease and freedom of movement. Therefore, your body movements will remain unrestricted. It includes a wide and comfortable neoprene waistband.
All these add to the comfort. It also includes semi-dry zip pocket on front right hip and taped neoprene ankle cuffs easily adjust to fit over neoprene boots while keeping splash out. It is seam-taped throughout for dry, comfortable paddling. The dry pants also come with a hidden front zip pocket and large ankle over-cuffs that will cinch down over your neoprene booties.
7. Kokatat Mens Hydrus 3L Tempest Pants with socks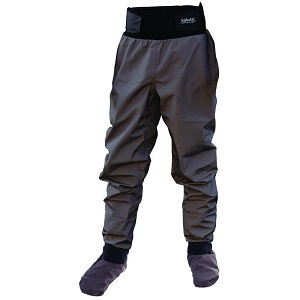 These are waterproof and breathable pants that are very ideal for any paddling adventure. They come with socks built right in to keep your feet warm and warm. It has a rugged outer fabric that stands up to abrasion and a soft, knit polyester lining that moves any moisture away from the body keeping you warm, dry and comfortable.
The pants are made of nylon. This adds to their durability and comfort. You may also love the factory sealed seams that keep you dry.
6. Kokatat Men's Hydrus Tempest Pants w/ Socks-LightGray-L
Other exceptional paddling pants come with extra-ordinary features. They are waterproof and comes with built-in socks to keep your feet dry and warm. The pants have a wide neoprene waistband with hook-and-loop tabs to keep water out, or you can mate these pants with a double-skirted top. They have 3-waterproof and breathable fabric layers. The tough nylon outer layer with a durable water repellent coating to shed water.
This paddling pant is also designed with a proprietary polyurethane micro-porous inner coating that quickly transfers water vapor away from your body. The inner lightweight polyester knit layer feels good against the skin and is engineered to help with moisture transfer. The pant also boasts of gravel guards at the ankles that keep sand and debris out of your shoes or booties. These pants also come with amazing warranty cover. They come with a lifetime warranty for both repairs, replacement, and labor. It is highly recommended.
5. NRS Freefall Dry Pant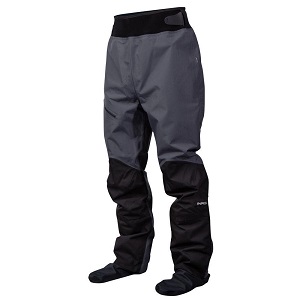 NRS Freefall waterproof and breathable is a paddling pant that you can consider for your paddling. Comes with the fully taped eclipse dry socks with adjustable hook and loop over cuff to keep your feet dry and warm. Being adjustable, they can be used on any feet size. They fit perfectly well and are very comfortable.
Also, it has a high waist adjustable waistband all designed to keep you dry. The pant also has an outer hook-and-loop ankle cover to protect the latex gasket and seals out debris. The 3 mm neoprene band will seal tight at the waist. These pants allow for unrestricted movement, the gusseted crotch for freedom of movement. Other features that may interest you include two large pockets, with splash-proof zippers to provide handy storage
4. Stohlquist Treads Paddling Pant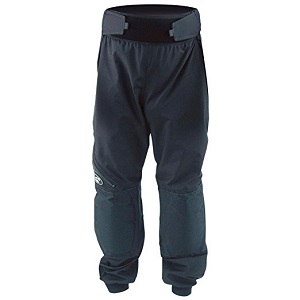 Stohlquist Treads are constructed from a breathable and waterproof 4-Layer Twin Sensor keeps you dry and doesn't allow for interior moisture build-up. They are designed to keep you dry and they do exactly that. The knees and shins are reinforced with 500 denier Cordura and with the built-in zippered rubber mesh pocket just to add to its comfort. Another important feature is the taped seams for durability and eliminated moisture build-up.
These pans provide roomy fits and are provides enough comfort. They provide for unrestricted movement. The velcro fasteners with the neoprene bands on the waist and legs are first class. You may love its easy-in and out feature a double-throw waist closure and sticky-back neoprene inside that hangs on while you move. If you intend to buy paddling pants, then you can think of this.
3. NRS H2Core Lightweight Pant – Men's
These pants are also known to be very comfortable band breathable. They are excellent in giving the desired warm and dryness while giving a roomy fit. Performance fabrics breathe freely and wick moisture. The lightweight fabrics provide good sun protection. It includes a zippered stash pocket in the waist lets you keep small necessities handy.
2. NRS Men's Endurance Splash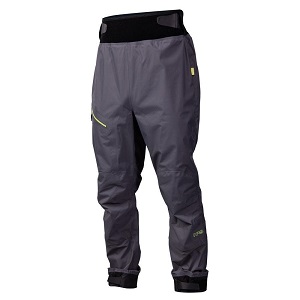 It is definitely one of the best paddling pants on the market today. These paddling pants are breathable and extremely comfortable. They are exceptional in keeping you warm and dry. They have a roomy fit enhancing your comfort. Also, they provide for unrestricted movement. The pant is made out of HyproTex™ 2.5 fabric, which allows heat and moisture to escape.
It also includes a dual hook-and-loop closure lets you adjust the neoprene waistband to keep out the elements. The Seat and knees are reinforced for better durability and comfort. In addition, it features a splash-proof thigh pocket that may help you keep your valuables.
1. DIVE & SAIL Men's Neoprene Wetsuit Pants, 3/2 mm Wetsuit Capri Pants For Water Sports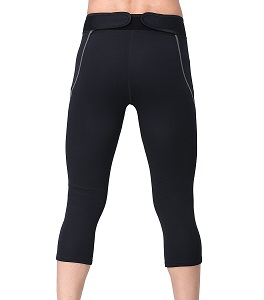 This is the best available paddling pants in our compilation. Made of 90% neoprene+10% nylon thus are very comfortable, warm and excellent in keeping you dry. They fit perfectly well and provides room for comfort. They are very breathable feature a comfortable 4-way stretch elasticity that offers much more flexibility. More importantly, the lightweight high-quality diving fabric, thin like a protective layer of the skin provides UV up to 50+ protection. The pant also includes an adjustable Velcro waistband designed for fitting to the body line perfectly.
Conclusion
The reason you need paddling pants is to keep you warm and dry. The above discussed paddling pants provide for maximum comfort and breathability in addition to keeping you warm. They were carefully selected to include those made of high-quality materials and therefore very durable.
These paddling pants are leak-proof and most of them provide a roomy fit. Some have unique features like adjustable waistband design to ensure they fit you well and keep you safe from water..